After a week with this new style, I'm finding myself less than comfortable with the "one thought, one entry" blog style. It breaks up what is otherwise a daily meandering into somewhat artificial bits and pieces. I think I'll experiment with a flowing main entry to which individual items can be added later.
It's Feline Friday, and time for another look at some of our Kaaawa cats.
Mr. Leo just visited the vet for a check-up. It's been over a year since he barely survived a ruptured bladder, so I wanted a systems check. We're waiting for results of a blood test to see how his various systems are doing. In the meantime, he's as much of a rascal as ever. Also included in this week's cat gallery are Romeo, Duke, Toby, Wally and Annie. Just click on the photo for more.
The state has just approved an 18-month $427,000 nonbid contract with Franz Mayer of Munich, Germany, to produce and install glass mosaic tiles required to repair the large outdoor mosaic by Tadashi Sato in the center of the State Capitol.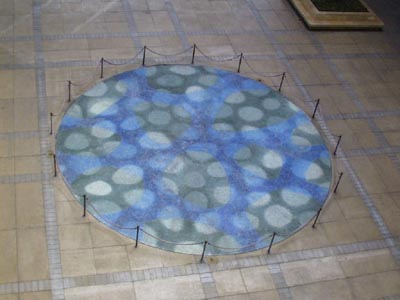 According to the request for exemption from standard procurement requirements, "two previous installations utilizing the Low Bid procurement system were below the aesthetic expectations of the SFCA (State Foundation on Culture and the Arts) and have failed due to poor materials and workmanship."
According to the one summary of the Capitol's architecture and art work:
The main courtyard is open to the sky, with a 'dome' meant to symbolize openness and the throat of a volcano. In the center is a mosaic titled "Aquarius", designed by Maui artist Tadashi Sato, made up of 6 million tiny tiles imported from Italy. The mosaic depicts the changing colors and patterns of the sea around Hawaii.
Sato died in 2005, and I'm glad that his mosaic is being restored. Hopefully this time it will get done right.
And if you happened to be around the capitol during the middle of the legislative session, you may have noticed the ropes dangling from the roof and areas cordoned off in the courtyard. Apparently this was due to spalling up at the top of the building that caused some tiles and concrete pieces to fall into the courtyard. Luckily, no one was injured but a contractor had to be found quickly. It cost $15,000 to install 36 safety anchors, and another $6,087.01 for workers from World Wide Window Cleaning to remove remaining loose material and then seal the exposed areas, according to the emergency procurement request.
Wayne Harada's column in yesterday's Honolulu Advertiser reports on a visit to Chef Mavro's Cassis by several stars from the tv show "Lost". Harada says "[Evangeline] Lilly raved about the cassoulet (the menu calls it a Portuguese bean stew with garlic herb crust)…"
Yes, that's the same cassoulet that I gave a lukewarm "interesting" rating to a couple of days ago. I'm not sure what there would be to rave about, but those were fine clothes the emperor was sporting.
This format makes it harder to avoid the cats, dogs, and other Kaaawa photos. Whether that's good or bad is probably a question of personal taste. Please let me know what you think, either via a comment or an email to me at ian(at)ilind.net.